SOMA camp is a production of the Sonoma County Mycological Association – a club known hereabouts as "SOMA".  Yes, not only does that mostly cover the initial letters of "Sonoma County Mycological Association" it's also a reference to SOMA, the "divine mushroom of immortality", as described in R. Gordon Wasson's book.
SOMA camp is a great production. It's on three-day Martin Luther King, Jr. day weekend, the next one is January 19-21, 2013. There are activities for all mycological interests:
Cultivation (i.e. growing mushrooms)
Cooking (i.e. picking and eating edible mushrooms)
Crafts (i.e. dyeing, papermaking, and other things)
Collecting (i.e. going on field trips to actually pick mushrooms)
Photography (i.e. taking pictures of mushrooms you've never seen before)
Identifying (i.e. all the different ways features of mushrooms are looked at)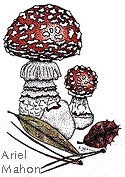 It's a great 3-day weekend. And if you're interested in mushrooms, it's even better!