GIS Day, November 14th, 2012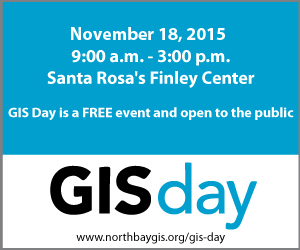 The North Bay GIS User Group is proud to host GIS Day at Santa Rosa's Finley Center.
GIS Day is a FREE event and open to the public. Come by anytime between 9:00 p.m. and 3:00 p.m. to see for yourself how GIS is being used in your community and at local schools.
Date:

November 14, 2012

Time:

General Public: 9:00 a.m. to 3:00 p.m.

Location:

Santa Rosa Finley Center
2060 West College Ave
Santa Rosa, California, 95403